Abstract: The present study deals with diglossic (conversational/ situational) switching from dialectal Arabic to Classical Arabic as it occurs in daily speech in the Algerian community. Our research question is: "What are the standard Arabic elements being embedded in the matrix dialectal Arabic in the Algerians' everyday communication?" The objective is to examine and analyze these elements to get more familiar with the nature of Classical Arabic penetration to the Algerian majority's spontaneous language behavior specifically in Oran speech community among university students.
Keywords: Diglossic Switching,Classical Arabic,Dialectal Arabic,Arabization,Daily speech,Algeria.
Resumen: En el presente artículo, trataremos la alternancia de códigos (conversacional / situacional) entre el árabe dialectal y el árabe clásico en el habla cotidiana de la comunidad argelina, centrándonos en el paso de voces y expresiones de la segunda variante a la primera. Nuestra pregunta es la siguiente: ¿Cuáles son los elementos del árabe clásico que están incrustados en el árabe dialectal matriz en la comunicación diaria de los argelinos? El objetivo es examinar y analizar estos elementos para comprender mejor cómo entran las voces del árabe clásico en el habla espontánea de la mayoría de los arabófonos argelinos, haciendo hincapié en la comunidad lingüística de estudiantes de Orán.
Palabras clave: Alternancia de códigos, Árabe clásico, Árabe argelino, Arabización, Habla cotidiana, Argelia.
ملخص: تهتم الدّراسة الحالية بالتناقل المزدوج اللغة (التّحادثي/ الظّرفي) من العربية اللّهجية الى اللغة العربية الفصحى في التّواصل اليومي في المجتمع الكلامي الجزائري. سؤالنا البحثي هو: "ما هي العناصر العربية الفصحى التي يتم تضمينها في اللّهجة العربية المسيطرة على التواصل اليومي للجزائريين؟". الهدف من ذلك هو دراسة تحليلية لهذه العناصر للتعرف على طبيعة تغلغل اللغة العربية الفصحى في السّلوك اللغوي العفوي واليومي للأغلبية الجزائرية وعلى وجه التحديد في المجتمع الكلامي الوهراني بين طلاب الجامعة.
الكلمات المفتاحية: التناوب في استعمال اللغة, العربية الفصحى, اللهجة العربية, التعريب, التخاطب اليومي الجزائ.
DIGLOSSIC SWITCHING IN ORAN: PENETRATION OF CLASSICAL ARABIC INTO DAILY SPEECH
Zohra
LABED
zohralabed28@gmail.com
Université Oran 2 Mohamed Ben Ahmed
,
Argelia
Université Oran 2 Mohamed Ben Ahmed
,
Argelia
Université Oran 2 Mohamed Ben Ahmed
,
Argelia
Universidad de Cádiz, España
0. Introduction: Language Situation in Algeria
Throughout history, Algeria has been often described sociolinguistically as a North African mosaic. The indigenous inhabitants of North Africa as a whole are Amazighs and their language is Tamazight([117]). They are said to have come originally from several European spots and Northeast/ sub-Saharan Africa (Labed, 2015). The Phoenicians, who originated from Canaan and whose language was obviously Canaanite, joined later the North African population for the purpose of trade by 900 BC. The Romans defeated the Phoenicians between 264 and 146 BC and their language, Latin, gained large ground in North Africa to remain subsequently official during the Vandals' ruling in the 5th century and then under the control of the Byzantines in the early 6th century. Next, the Arabs (see Section 1) arrived followed by the Spanish (1505-1791), the Turkish (1708–1732) and finally the French (1830-1962).
As a result, urbanized zones became multilingual([118]) in character while the Amazighs who lived in isolated rural areas and mountains kept using their language solely and monolingualism([119]) was therefore one symbol of their identity distinction (see Benrabah, 2014). A multilingualism induced-diachronic contact took place inevitably in cities between Tamazight and diverse languages including Canaanite, Latin, Arabic, Spanish, Turkish and French. The most profound influence on the native inhabitants came perhaps from the Arabs. Today, Algerian speakers of dialectal Arabic as a native language are estimated between 70 and 75% whereas those who have Tamazight as a mother tongue attain the percentage of 25-30%. On the other hand, the use of French is observed in parallel with local languages and its command varies from one bilingual([120]) individual to another (see Benrabah (2014) for further details).
1. The History of Arabic in Algeria
Muslim Arabs settled North Africa in the mid-seventh century by virtue of expanding Islam among the Amazighs who converted rapidly in majority. The use of Arabic, the hallmark of the new religion, at the beginning was confined to big cities (e.g. Qayrawan, Tlemcen, Fes) and this type of Arabic was known as sedentary. The Bedouin type of Arabic appeared in the area in the eleventh century at the arrival of the second Arab's wave, including Banu Hilal tribe that was dismissed by the Egyptian Fatimid Caliphate while welcomed by the Amazighs the other way around. Both populations mingled through marriage and daily intercommunication with the motivation of common bedouinity alongside with Islam. It is in this era that Arabic could take the lion's share of use in North African countries.
Contact between Tamazight and Arabic was inescapable and substantial mutual influence took place. The outcome of Tamazight impact on Arabic for example was so profound that it has pushed some sociolinguists like Benrabah (2014: 44) to employ "Berberised" Arabic with reference to Algerian Arabic([121]) varieties. More precisely, he explains: "As a substratum language faced with unequal contacts between conquering and conquered populations, Berber had little lexical effect on Arabic (the superstrate). Nevertheless, it exerted far-reaching structural influence on the latter's phonology, morphology, and syntax."
At the time of French colonization, the new governors came with the idea of making Algeria a strategic extension of France (see Le Roux, 2017) in Africa. They thought of an assimilationist policy of language as the latter mirrors identity. They started french-frying the country with special emphasis on education. Colonial culture was being transferred to the Algerians through their French teaching: This language is, for them, civilizing and therefore superior while the indigenous languages together with Quranic (Classical) Arabic are underdeveloped. In this way, the Algerians, according to the French policy makers, would claim the need for meeting modern standards, abandon their way of speaking and adopt the "prosperous" French with the feeling of their belonging to France.
After independence, the Algerian authorities were seeking for reconstructing the identity of the state by conducting a counter-colonial language policy to de-Frenchify Algeria (Benrabah, 2002, 2007, 2014). They endeavored to accelerate this process by declaring standard([122]) Arabic as the unique official and national language of the country. However, this Arabization policy clashed with severe criticism on the part of many voices who perceived it as no more than a different face of another colonial monolingual policy (ibid). Again, this ideological decision, for criticizers, came to eradicate the native tongues (dialectal Arabic and Tamazight), and French, in the hope of their total displacement by standard Arabic in daily life. Further analysis will be given in Section 6.2.
2. Diglossia in the Algerian Speech Community
In his article "diglossia", Ferguson (1959) described a language situation under the inspiration of Marçais (1930) (reported in Bouamrane (1986), Labed (2015) to involve not only the Arab world but also other communities worldwide under question. He identifies it as diglossia,
"[…] a relatively stable language situation in which, addition to the primary dialects of the language (which may include a standard or regional standards), there is a very divergent, highly codified ( often grammatically more complex) superposed variety, the vehicle of a large and respected body of written literature, either of an earlier period or in another speech community, which is learned largely by formal education and is used for most written and formal spoken purposes but is not used by any sector of the community for ordinary conversation […]" (Ferguson, 1959: 244-5).
Algeria has known this sociolinguistic situation after the implementation of the colonial language policy and the same situation persisted in the post-independence era out of Arabization process. Following the quotation above, Arabic is either High (H) or Low (L)([123]). In the present context, H is Classical Arabic whereas L refers to dialectal Arabic. Both varieties are genealogically interrelated but still differ in terms of phonology, vocabulary and grammar. For example, H and L could be similar lexically as they could lack equivalents. Also, they may share the same spelling with different meanings or they may be spelt differently but still share the same meaning. They also function differently, according to the same author, as summarized in the table below,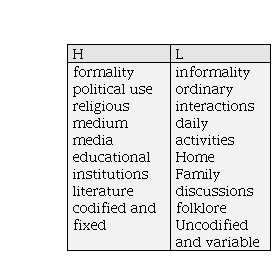 Table 1: Differences between H and L (adapted from Ferguson (1959))
3. Diglossic Switching in Algeria
Ferguson (1959) indicates on the other hand the probability of the emergence of intermediate language forms as a reaction to communicative pressure that results from diglossia. The author has been subsequently reproached for his superficial reference to these forms despite their recurrent emergence in communication, a fact that is the focus of the present study. He has rather emphasized that H and L are in complementary distribution such that H prevails where L does not, and the latter is used where the former is excluded as demonstrated in Table 1. That H and L are complimentarily distributed is further highlighted by Benrabah (2007: 247) when saying that Arabization in Algeria has attributed different functions to distinct language varieties (e.g. French and English) in the area and H and L are no exception: "For the majority of Algerians (1) their first languages, Algerian Arabic and / or Tamazight, allow them to draw their sense of national belonging (identity), (2) Literary/Classical Arabic is associated with Arabo-Islamic values (religion),…".
Boussofara-Omar (2006: 630) does not share Benrabah's belief and says that "Ferguson's impressionistic and perhaps idealized characterization of the two varieties as being in complementary distribution functionally is removed from the reality of Arabic-speaking communities". For her, Ferguson overlooks the perpetual interplay between Classical Arabic and dialectal Arabic. In addition, that H is today well-widespread among the Algerian youth, unlike the past decades when only literate elite had a good command of it. Middle Arabic, Educate spoken Arabic and other terminologies have been alternatively assigned to Ferguson's concept "intermediate form". Boussofara-Omar (2006) opts for the term diglossic switching([124]). It should be noted on the other hand that Arabic language varies stylistically in the sense that there is a whole continuum between H and L and this fact has, as well, skipped Ferguson's attention. The number of styles is not determined neither is the position of the intermediate form which in fact is identified by researchers in various ways. According to Abboud-Haggar (2006), Arabic stylistic variation is linked to a variety of factors such as the topic, setting, the degree of H command, the relationship between the speaker and the hearer.
Diglossic switching is bi-directional. In a situation which implies diglossia, speakers may shift sometimes in an H conversation to L to clarify their speech. Or, they could shift in their daily interaction from L to H, a fact on which we place special emphasis currently. In the first case H is said to be the matrix variety while L covers the embedded portions. In this research, L is the matrix (dominant) variety whereas the embedded (secondary) elements come from H. Matrix and embedded language varieties([125]) imply the occurrence of intrasentential code-switching or code-mixing within a given clause and opposes intersentential code-switching that is found at the boundary of clauses. Both above-types of switching are known as conversational code-switching which contrasts with situational code-switching (switching occurs when there is a change in the topic, setting, interaction members for instance). Diglossic switching can take situational or conversational forms.
Our point of departure in this research was a simple casual observation. We noticed that a conversational (intra-sentential and / or inter-sentential)/ situational switching occurs to embed standard Arabic utterances within the Algerians' daily interactions that are predominantly dialectal. And this action occurs spontaneously among the interlocutors without any purposeful production. Our research question is: "What are the standard Arabic ingredients that are then embedded in the matrix dialectal Arabic within Algerian daily speech?" We have hypothesized that Classical Arabic constituents are used in everyday communication to fulfill the religious requirements of the Algerians. Our objective behind this study is to examine and analyze diglossic switching to standard Arabic in Algerian everyday speaking.
To check our hypothesis, we relied on a more careful observation of the linguistic behavior of Classical Arabic users by playing the role of complete participants. A complete participant forms part of the population under study without declaring his/ her status as a researcher. This observation instrument allowed us to gather some data that went through testing by using another research method, namely structured interview. At this phase, we worked on a pre-established list based on already collected data and asked the informants whether they made use of it in their ordinary conversations. The structured interview was undertaken at the university setting Ahmed Ibn Ahmed Oran 2, department of English. Our case study involved forty-two-year master's students (eighteen males and twenty-two females).
Eighty-one expressions are the total number of data collected in the current study. In the following sections, we will analyze the findings by classifying them according their possible categories which have been the sources of diglossic switching among our informants. As we hypothesized, an important number of data fulfill the religious needs. However, our hypothesis is not totally validated since another significant portion of the findings covers other requirements in daily speech.
Algeria is a multilingual country in which more than two languages are used. It is also diglossic whereby two varieties of the same language source are used namely Classical Arabic and dialectal Arabic. Today, the gap between the two varieties is filled with different levels of Arabic ranging from the more to less formal due to diglossic switching as indicated by researchers, such as Boussofara-Omar (2006). In many studies and in our hypothesis, it has been stated that Classical Arabic in diglossic situations has the function of serving religious requirements. It is the language in which the Quran is revealed and the language that shapes the prophetic messages and his companies. Muslim experts in Islam have been inspired by these sources to carry on teaching morality in the Islamic way. Indeed, the findings confirm that Classical Arabic prevails in the Algerian daily speech to refer to religion and its specificities.
Nevertheless, not all data is restricted to this field and the recurrent claim that Arabization policy, implemented since the Algerian independence for expanding Classical Arabic use, has been a failure is not validated either by our results. Even if there is some failure, we say here that it is partial. In the case of daily life of the Algerian Oranees for example, the school has played a significant role in making this Arabic type penetrate in their ordinary communication using devices such as poetic verses, proverbs and idioms to make their speech more significant. Arabization through the media also has had important effects on Algerian Arabic and enriched it with embedded collocations, which, as well, are learnt as an outcome of globalization by intensifying intercommunication through technological online tools among the Arabs.
However, it should be mentioned that the list supplied presently is still not comprehensive and needs to be further supplied by data. Also, it is more significant to increase the number of informants all over the country to reach more reliable conclusions regarding the penetration of Classical Arabic in the ordinary interactions of the Algerian majority.
***
Additional information
BIBLID: [1133-8571] 25 (2018) 37-59