Abstract: Sperm morphology is essential in evaluating seminal quality and important for fertility prediction in breeding males. The aim of this study was to compare the morphometric parameters of alpaca sperm, collected using three methods of semen extraction, recovery of the vas deferens (DCD), electro ejaculation (EE) and vaginal aspiration (VA). The collection was made of 3 animals by each method. The mobility, concentration, vitality, membrane functionality and sperm morphometry parameters were determined in a computerized semen analysis kit – ISAS® CASA - Morph. For morphometric parameters, semen samples were processed with a Hemacolor® staining kit and viewed under a phase-contrast microscope. For each sample, at least 200 sperm were captured at random, with an image resolution of 0.08 µm per pixel on the horizontal and vertical axes. The comparison of the morphometric parameters between the collection method and the animal was carried out using a random block design. Total motility was 16.27±11.96%, 14.68±11.21% and 12.44±7.27%; the sperm concentration of 247±186.70x106EPZ/mL, 67.92±67.92x106EPZ/mL and 100.32±56.13x106EPZ/mL, the vitality was 62.86 ±15.92%, 63±15.21% and 70.16±14.33% in sperm collected by DCD, EE and AV respectively. Regarding the morphometric parameters, a length of 5.49±0.43µm, 5.53±0.41µm and 5.75±0.53µm was found, area 14.30±2.00 µm2, 15.05±1.77 µm2 and 15.88±2.00 µm2, perimeter of 16.10±1.31µm, 17.11±1.20µm and 17.41 ± 1.43, width of 3.22±0.27µm, 3.30±0.32µm and 3.33±0.25µm and the acrosome percentage of 52.22±7.82µm, 49.52±7.47µm and 47.44±5.77µm in sperm collected by DCD, EE and AV respectively. The morphometric parameters of the size and shape of the sperm head and the intermediate piece showed significant statistical differences (p <0.01) between the collection methods and between the animals. In conclusion, the morphometric parameters of alpaca spermatozoa were influenced by collection method, and show variations between animals.
Keywords: Alpaca, collection method, spermatozoa, morphometry, CASA, ISAS®.
Resumen: La morfología espermática es esencial en la evaluación de la calidad seminal e importante para la predicción de la fertilidad de machos reproductores. El objetivo del presente estudio fue comparar los parámetros morfométricos de espermatozoides de alpaca, obtenidos por tres métodos de extracción de semen, la recuperación del conducto deferente (DCD), electroeyaculación (EE) y aspiración vaginal (AV). La colección se realizó de 3 animales por cada método. Se determinó la movilidad, concentración, vitalidad, funcionalidad de membrana y parámetros de morfometría espermática, con un equipo de análisis computarizado de semen - ISAS® CASA - Morph. Para los parámetros morfométricos, las muestras de semen se procesaron con un kit de tinción Hemacolor® y se observaron en un microscopio de contraste de fases. Por cada muestra, se capturaron al menos 200 espermatozoides al azar, con resolución de imágenes de 0.08 μm por píxel en los ejes horizontal y vertical. La motilidad total fue de 16.27±11.96%, 14.68±11.21% y 12.44±7.27%, la concentración espermática de 247±186.70 x 106EPZ/mL, 67.92±67.92 x 106EPZ/mL y 100.32±56.13 x 106EPZ/mL, la vitalidad fue 62.86±15.92%, 63±15.21% y 70.16±14.33% en espermatozoides colectados por DCD, EE y AV respectivamente. En cuanto a los parámetros morfométricos se encontró una longitud de 5.49±0.43 µm, 5.53±0.41µm y 5.75±0.53µm, área 14.30±2.0µm2, 15.05±1.77µm2 y 15.88±2.0µm2, perímetro de 16.10±1.31µm, 17.11±1.20µm y 17.41±1.43µm, ancho de 3.22±0.27µm, 3.30±0.32µm y 3.33±0.25 µm y el porcentaje de acrosoma de 52.22±7.82%, 49.52±7.47% y 47.44±5.77% en espermatozoides colectados por DCD, EE y AV respectivamente. La comparación de los parámetros morfométricos entre método de colecta y animal se realizó mediante un diseño de bloques alzar. Los parámetros morfométricos del tamaño y forma de la cabeza de espermatozoide, y pieza intermedia mostraron diferencias estadísticas significativas (p<0.01) entre métodos de colección y entre animal. En conclusión, los parámetros morfométricos del espermatozoide de alpaca son influidos por el método de colección, y muestran variación entre animales.
Palabras clave: Alpaca, método colecta, espermatozoide, morfometría, CASA, ISAS®.
ARTÍCULOS DE INVESTIGACIÓN
Morphometric parameters of alpaca spermatozoa (Vicugna pacos), obtained by three collection methods
Parámetros morfométricos del espermatozoide de alpaca (Vicugna pacos), obtenidos por tres métodos de colección
Huanca-Marca
,
Nancy Frinee
*
frineehm92@gmail.com
National University of San Antonio Abad of Cusco
,
Perú
Ordoñez-Rodríguez
,
Cesar Domingo
National University of San Antonio Abad of Cusco
,
Perú
Journal of the Selva Andina Animal Science
Selva Andina Research Society, Bolivia
Received: 01 June 2020
Accepted: 01 September 2020
Published: 01 October 2020
This work is licensed under
Creative Commons Attribution-NonCommercial 4.0 International.
Introduction
The collection of semen in South American camelids (SAC) presents inconveniences such as duration, the position of the copulation, high viscosity, low volume of ejaculates, as well as low concentration of sperm, absence of progressive motility, difficult handling, motivating the search for a technique optimal for extracting semen and being able to manipulate sperm (EPZ), without losing their fertilizing capacity1,2. Semen collection depends on a good and constant sperm production for its quality, collection techniques are highly developed in other domestic species, in which there is already a routine procedure, but in SAC there is no recommended protocol and technique optimal, therefore, the seminal characteristics are highly variable and depend on the form of collection and there are several factors that affect its quality3.
Of all the seminal quality parameters analyzed in an ejaculate, such as volume, concentration, motility, vitality, and sperm morphology, it is recognized that morphology is a determining characteristic to diagnose male fertility problems and predict it in artificial insemination (AI)4,5.
The use of morphometric reference values of EPZ can increase the knowledge of their capacity for natural and in vitro fertilization, as well as their quality and function after cryopreservation6. Morphological and morphometric evaluation of the acrosome structure of EPZ allows the precise prediction of the fertilization capacity of males7,8.
In this context, the determination of their morphological structure is of particular importance, because their size and shape are important criteria in the classification of EPZs as normal and abnormal. Not only has the size of the head affected the fertilization capacity, but also the dimensions and function of the tail and central piece9.
In SAC, 40% of the EPZ of ejaculate has a normal morphology10, for which several studies have been carried out because the shape, size of the head, of the spermatic nucleus, are related to the DNA content and the chromatin organization11, it is essential to analyze the sperm morphology of reproducers because nucleus abnormalities are frequently associated with a reduction in fertility12.
However, characterization, the precise classification of sperm morphology, requires objective measurement techniques and standardized staining methods. Therefore, the use of computer-assisted semen analysis (CASA) systems for stained semen samples has meant an advance in the precise analysis of sperm morphology, based on a series of parameters13,14. In SAC there are few studies on the morphology and morphometry of EPZs of llama and alpaca11,15-21 where different staining protocols with Hemacolor®, Diff Quick®, Papanicolaou, and Staining 15 ® were used.
In this sense, the present study aimed to compare the morphometric parameters of the EPZs of alpaca (Vicugna pacos) between three methods of semen extraction, deviation of the vas deferens, electroejaculation, and vaginal aspiration
Materials and methods
Study place and animals. The study was carried out at La Raya Research Center on South American Camelids (CICAS), of Agrarian Sciences Faculty (FCASF) of the Universidad Nacional de San Antonio Abad del Cusco (UNSAAC), located at an altitude of 4133 meters, since January until June 2017. The experimental group consisted of 9 adult male alpacas from 6 to 8 years of age and average weight of 69.11±9.84 kg, kept in a natural grassland (fescue, stipas and calamagrostis) and free access water.
Semen collection. Semen extraction was performed by three methods: EPZ recovery by deviation of the vas deferens (DCD), electroejaculation (EE) and vaginal aspiration (VA), assigning 3 alpacas to each method. For the recovery of EPZ by DCD, alpacas previously operated were used and the vas deferens were diverted towards the inner thigh21. Through a fistula, the EPZ drops were suctioned and deposited in 2 mL vial tubes22, containing 0.3 mL of dilutor Tris base, fructose and citric acid, at 37 °C23. For the semen extraction by EE, the protocol of Director et al.24 with modifications for alpacas, under general anesthesia (Ketamine 2.5 mL/100 kg BW and Xylazine 0.2 mL/20 kg BW intravenously) was taken as a reference25, applied increasing cycles of 2 to 12 V, with alternating periods of electrical stimulation of three seconds and with rest intervals of one second with the electroejaculator (ElectroJac 5®, Ideal Instruments®, Lansing, EU). Semen samples were extracted by VA from females after a copulation period of 20 to 40 min with selected males, introducing a vaginal speculum up to the cervix, making rotary and vertical movements in the same axis26. In all cases, the samples were immediately stored at 37 ° C.
Microscopic evaluation. Total motility (progressive mobiles and non-progressive mobiles) and EPZ concentration were evaluated in the ISAS® equipment, Integrated Semen Analysis System (Proiser I+D, Paterna, Valencia, Spain), equipped with a UOP phase-contrast microscope-UB200i, 10X Nega tive phase contrast objective, with video camera (Ximea MQ003MG-CM, Ximea, Münster, Germany). Vitality was determined by fluorescence, using the VitalTest® kit (Halotech, Madrid, Spain) (acridine orange solution and propidium iodide solution), following the manufacturer's specifications. To evaluate the functionality of the sperm membrane, a hypoosmotic solution of 50 mOsm/kg27 was used, where an adequate function of the membrane was evidenced with a positive reaction to tail roll (HOST +). To determine the percentages of vitality and HOST +, no less than 200 EPZ were counted, with the objective of 40X of the ISAS®.
Sperm morphometry. The slides with semen samples were dried in the environment and subjected to the staining protocol of the Hemacolor® kit (Merck, Darmstadt, Germany), following the manufacturer's recommendations. The morphometric analysis of the samples was carried out in the ISAS® morphometry module, with the objective of 100X and immersion oil. The video frame capture frame size was 768x576x8 bits and 256 levels of gray. The resolution of the images was 0.08 μm per pixel in the horizontal and vertical axes. No less than 200 EPZ were randomly captured per sample, with no overlap between EPZs.13 Morphometric parameters were analyzed, the size of the EPZ head (figure 1) were length (L, µm), width (W, µm), area (A, µm2) and perimeter (P, µm), from which the shape parameters, such as ellipticity (L / W), elongation ([LW] / [L+W]), regularity (πLW/4A) and rugosity (4πA / P2). In addition, the percentage of acrosome (% of total head), width and area of the midpiece (PI) in µm, insertion distance of PI (between the head and the axis of the PI, µm) and the angle insertion of PI5,22 by the three collection methods (Figure 2).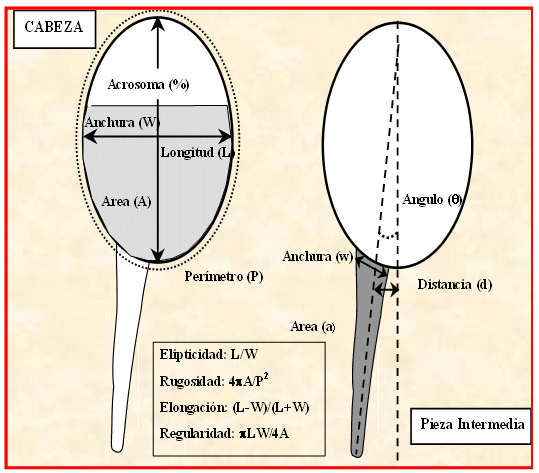 Figure 1
Statistic analysis. Descriptive statistics of sperm motility, concentration, vitality and functionality were obtained. The assumptions of normality and homoscedasticity were determined using the Kolmogorov-Smirnov and Levene tests for the data obtained from the CASA-Morph analysis of all the cells analyzed. For data that did not have a normal distribution, their transformation was carried out with the TRANSREG procedure of SAS. The comparison between semen collection methods was made under a random block design, the comparison of means was made with Duncan's test. For statistical calculations, the SAS v. 8.2 (North Carolina State University- United States).
Where:
Yijk = Response variable.
µ = Population mean or common constant.
Ai = Animal effect
Cj = Effect of the collection type
eijk = Experimental error.
Results
Table 1

Table 2
Table 3

Discussion
The determination of the routine microscopic characteristics of the EPZs of alpacas obtained by three collection methods: total motility (MT), sperm concentration (CE), vitality, and functionality of the sperm membrane (FMP), is observed in Table 1. These findings are within the ranges described by Meza et al.21 and Quispe28 in EPZ recovered from the vas deferens, Alarcón et al.29 in semen collected by VA, and by Flores et al.25, Ordoñez et al.30 and Ciprian31 in semen collected by EE, all of them in alpacas. All microscopic variables were evaluated in 9 collections by each semen extraction method. The values of the morphometric parameters of the EPZ head size (length, width, area, and perimeter), head shape (ellipticity, rugosity, elongation, and regularity), percentage of the acrosome, width, area, distance, and angle of insertion of the midpiece of the EPZ, table 2. The collection method significantly influenced all the morphometric parameters of the EPZ head size (p <0.01) (table 2). The morphometric dimensions of the head size of EPZ obtained by DCD were smaller than by EE and AV. This great morphometric variability between collection methods is probably due to the presence of seminal plasma (EE) and fluids from the female's tract (AV), since the EPZ recovered from the vas deferens are devoid of secretions from the prostate and glands. bulbourethral, which make up a complete ejaculate. Therefore, the majority of EPZs collected by DCD probably have not completed their maturation. Seminal plasma plays an important role in the conservation of EPZ because it contains antioxidants such as vitamin C, vitamin E, urate, albumin, taurine, hypotaurine, pyruvate, and lactate, as well as secretory protein rich in cysteine (CRISP3), positively associated with the conception rate32,33.
Some parameters are similar to the reports by Buendía et al.15 Casaretto et al.34, Ordoñez et al.16, Soler et al.35 Giuliano & Ferrari36, Evangelista-Vargas et al.18 Flores-Huarco37 and Cucho et al.22 For example, Ordoñez et al.16 report larger head size dimensions (length 5.89 μm, width 3.50 μm and perimeter 17.53 μm) in VA semen, stained with Diff Quick® and evaluated in ISAS®, which is probably due to the type of staining used, on the other hand, Buendía et al.15 point out greater length and width of the head (6.10 μm and 3.62 μm, respectively) and smaller perimeter (15.11 μm), in alpaca semen collected by AV, stained with Hemacolor® and evaluated in SCA®. To understand these differences, it could be hypothesized that in whole semen (EE), the presence of seminal plasma, or blood cells, vaginal mucus, and other impurities (VA) could stimulate the acrosomal reaction. Ordoñez et al.16 reported a lower percentage of acrosome compared to the head (46.58%) collected by AV, Ciprian33 (49.95%, and 56.08%) in EPZ collected by EE and DCD. The acrosome is a structure directly related to fertility38.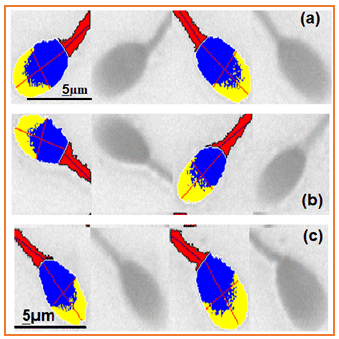 Figura 2
Each EPZ is endowed with a single acrosome, the shape, and size of which vary widely between species39. The acrosomal reaction induced naturally or artificially, depending on the staining used, can lead to its loss or an overestimation of the size of the EPZ40 head. Although Yániz et al.14 suggest using fluorescence techniques to differentiate the structure of EPZs. Cucho et al.22 consider that the adequate staining for EPZ of the vas deferens is Hemacolor®, because it allows determining the presence and proportion of the acrosome in the spermatic head. Similarly, statistically significant differences were found in the parameters of the head shape, and the intermediate piece (PI) of the EPZ (p <0.01) (table 2). From a pathological point of view, it is argued that adverse environmental conditions such as high temperature and humidity could generate hydrocele and scrotal edema in animals, altering the macroscopic and microscopic characteristics of the ejaculates and in the morphometric parameters of the EPZ41. However, by virtue of the morphological diversity of the alpaca EPZ, various functional aptitudes are attributed according to the morphological characteristics of the EPZ. Thus, Núñez-Martínez et al.42 affirm that there is a cryopreservability variable between subpopulations, which depends on the osmotic gradient according to cell shape, volume, and area (parameters used to estimate roughness and regularity).
There are few reports of the study of sperm PI morphometry, Cucho et al.22 found similar values with Hemacolor®, but Ordoñez et al.16 obtained higher values, in EPZ collected by (VA) and with the type of staining used (Diff Quick®). The staining influences the real morphometric dimensions of the EPZ, where the sperm undergoes deformations, either by osmosis or dehydration, the EPZ can be reduced up to 20% of the length and 13% of the head width, these characteristics are necessary to perform the analysis in CASA43 systems. Cucho et al.22 indicate that the results of alpaca sperm morphometry are sensitive to the applied staining technique. Lüpold et al.44 found an association between PI length and sperm motility since greater motility would be related to a greater amount of energy produced in more mitochondria present in a more elongated PI45. However, Malo et al.46 argue that a larger PI can hinder the locomotion of EPZs, making them slower. The high variability in the insertion angle of the IP (Table 2) may be due to the mechanical action of the extension (smear) and drying, influencing its calculation. The morphometric parameters of the size of the EPZ head such as length, width, area, perimeter, and percentage of the acrosome of each animal are observed in (Table 3). Where the variables of the morphometric parameters (length, width, area, perimeter, and percentage of the acrosome) have an individual variation in alpacas (p <0.01). The high variation in sperm dimensions between individuals and within the ejaculate of the same individual (Table 3) could support the hypothesis of camelid sperm heteromorphicity due to the high degree of polymorphisms in the same ejaculate47. The microscopic variables of semen in South American camelids vary between individuals and these are also affected by both the collection method and the season48. The sperm morphology in different species is variable between individuals of the same species, breed, between ejaculates of the same individual, and even as morphometric subpopulations within the same ejaculate, due to the physiological state, sexual maturity, and genetic polymorph that controls spermatogenesis46,49,50.
The importance of the role of EPZ morphometry in recent years has become very important in all species. For example, Maree et al.51 mentioned the relationship between sperm morphometry and fertility in humans, and there are studies that indicate the relationship between the dimensions of EPZ and fertility in horses52,53,54,55 in which the disorders of fertility are positively correlated with the size of the sperm heads. The relationship between EPZ morphology and fertility has also been studied in boars56, bulls57,58, dogs59, and foxes60. The main sources of variation in the morphometry of EPZs are the preparation of the sample, the fixation method, the microscopic system, the technician's activity, and the collection method, all this can affect the repeatability of the analysis, its reproducibility, and the comparison of the results. between laboratories61. It is of great importance that the collection method is ideal for the EPZ collection and that it does not affect the morphology, structure, and size of the EPZs.
The results indicate that the choice of the semen collection method has an impact on the dimensions of the EPZ head and on the morphometric parameters; in which the EPZ recovered by DCD are those that exhibit smaller dimensions with respect to the EPZ of complete ejaculates (EE and AV); morphometric parameters vary between animals. However, given the variability of the parameters studied, more studies are required to understand the implications of morphometric diversity on sperm function.